How Zen do you feel about retirement?
The success of your retirement depends on the amount you save, not on your rate of return.

Kai-Zen® offers you up to an additional 3 times more money to fund a unique cash accumulating life insurance policy using leverage. Your policy offers an opportunity to earn interest and eliminate the risk of market declines, while providing you and your family protection. The policy secures the loan, providing you the potential for an additional 60-100% more for your retirement without the typical risks associated with leverage.
Why using leverage is smart.
We have all used leverage to purchase a nicer house or to buy a better car.
Kai-Zen® uses leverage for the potential to accumulate more growth & obtain more protection, while providing the ability to maintain your current standard of living. That's the smart way to use leverage.
WHAT WILL YOUR RETIREMENT LOOK LIKE?
If you qualify, you have the potential for a retirement that offers so much more than what you could obtain on your own.
Kai-Zen® is different!
Kai-Zen® is the only strategy that provides you the opportunity to add up to 3 times more money to fund a cash accumulating life insurance policy. Your contribution and the policy provide the security needed to obtain the loan, and your participation is easy. Simply create an account, estimate your short 5-year annual contribution amount, and let Kai-Zen® leverage do the rest.
Kai-Zen® was designed to minimize expenses and maximize your potential for accumulation. We then combined it with leverage to provide you the potential for 60-100% more:*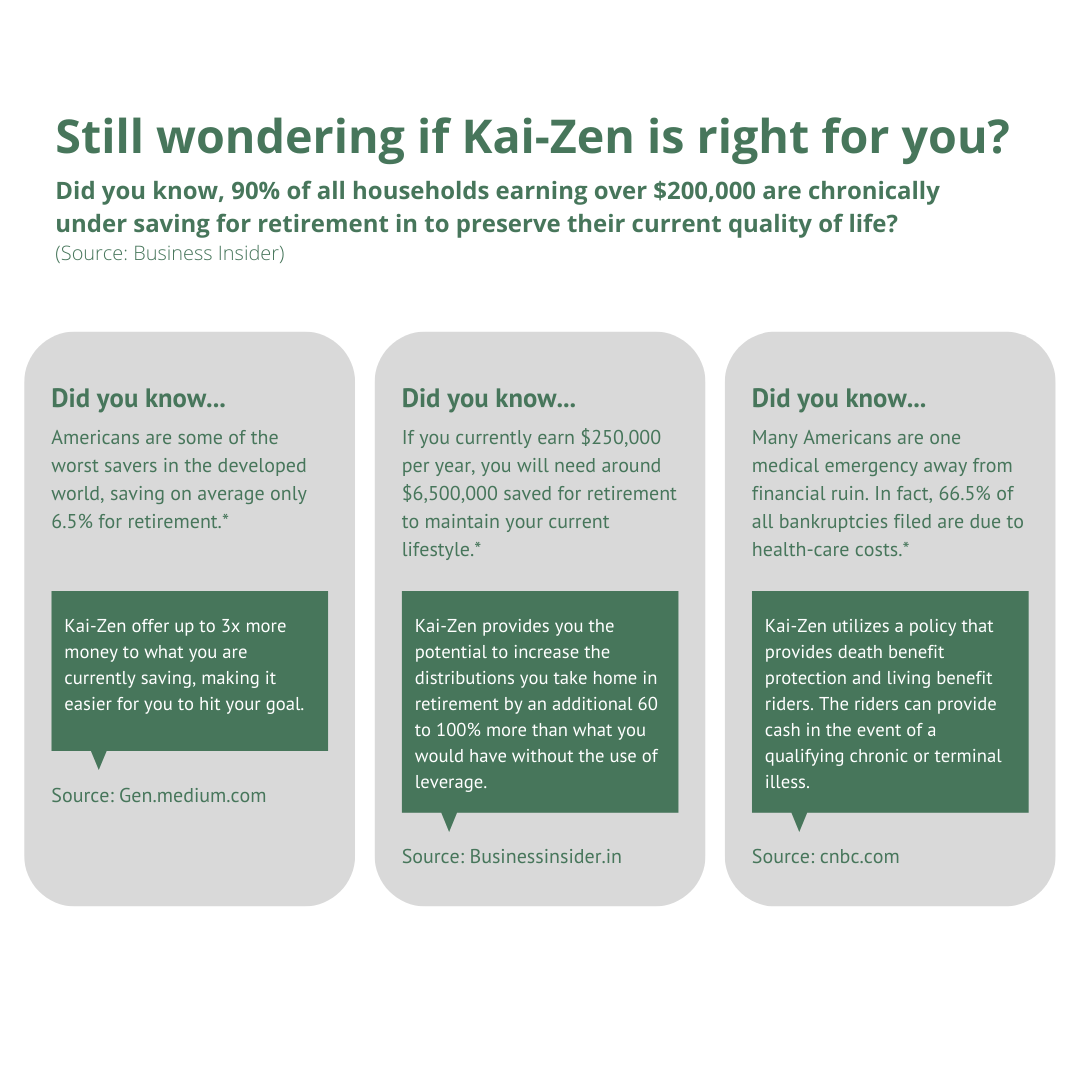 ---
WHAT PEOPLE SAY ABOUT OUR SERVICES
Very accommodating and responsive tax preparer! Mr. Anderson patiently explained to me my tax document and helped me with the rest of my concerns! I feel valued as a client, and we had a very smooth transaction. Thank you, Mr. Anderson of Unifirst!. Highly recommended!
Abegail on Monday, February 21, 2022
---
STRENGTHEN AND SOLIDIFY YOUR FINANCIAL PLAN
Leverage our team's expertise. Learn more about tax efficient strategies.